National Whole Grains Month
When shopping for food, look for whole foods; food the way it comes from the earth (think fresh fruits and vegetables, whole grains, beans, peas and lentils, unsweetened dairy products and fresh meats). 
When purchasing something in a package, it may be made from whole foods or it may consist largely of processed ingredients.  Here are some suggestions for selecting foods containing whole grains:
Breads:  "Whole grain" should be one of the first five ingredients.  A good rule for fiber is 2 – 3 grams fiber per 15 grams carbohydrate, which is close to one slice, on average.
Cereals:  Look for 2 or more grams protein and 5 grams fiber per serving with less than 8 grams sugar.  Check for trans fats too – you don't want any!  Regular oatmeal is better than instant. 
Snack or meal replacement bars:  Look for at least 3 grams fiber and 5 grams protein.  Watch sugar and saturated fat!  Look for less than 35% calories from sugar.  Snack bar at around 150 calories; meal replacement 250 calories.
Pasta:  Pasta made from whole grain flour contains much more fiber than enriched white pasta
Frozen meals:  Look for meals that include a serving of some kind of whole grain – could be quinoa or wild rice, for example and at least one serving of vegetables free from fatty sauce.   Here are basic guidelines for choosing a healthy frozen meal:  300-500 calories, 10-18 grams of total fat, or less that 30% of total calories, less than 4 grams of saturated fat, less than 600 milligrams of sodium, at least 5 grams of fiber and 10-20 grams of protein.
Test yourself!  Take the Whole Grains Council's 'Guess the Grains' quiz
If you would like to meet with the dietitian, consultations are available.  Email Linda Adams. 
---
Product Review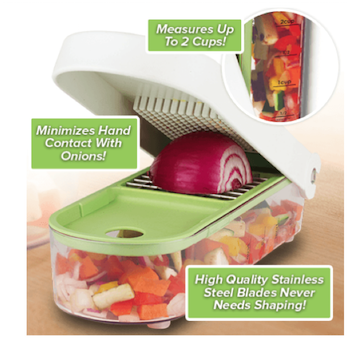 I'm not usually a sucker for "As Seen on TV" products, but I tried the Vidalia Chop Wizard with onions, carrots and sweet potatoes and had good results with evenly chopped and diced vegetables - and no teary eyes. It made meal prep faster and easier and is a great tool to encourage increased vegetable consumption, especially for people who otherwise may skip adding vegetables to meals - Jessica Levinson, MS, RDN, CDN
Primary Category
Tags