The Safety Star Program recognizes employees who improve safety at UC Davis
The Safety Star Program was implemented to recognize campus employees who are making contributions to improve the safety culture at UC Davis. The award is quarterly, and nominees are eligible for three voting periods (9 months). Winners receive a choice of gift card or engraved paper weight, and are honored in the DSC Update newsletter and at the DSC quarterly meeting.
---
Third Quarter 2022 Safety Star: Christophe

 Morrisseau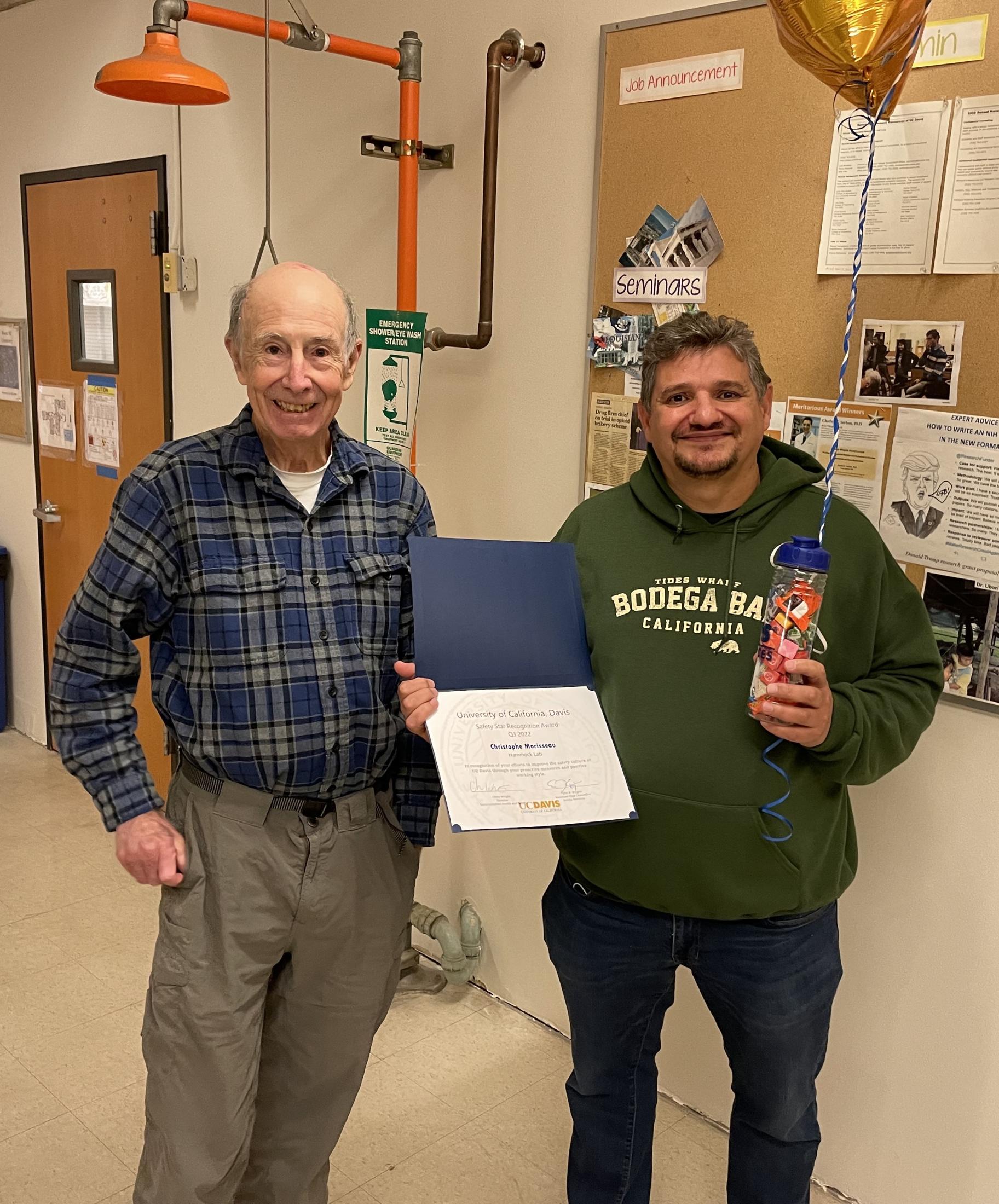 Department: Entomology and Nematology
Position: Researcher
As a researcher in the Department of Nematology and Entomology, Christophe Morrisseau is constantly up against a prevailing safety risk: chemicals. His lab has around 4,000 chemicals ranging from what he considers "normal" (flammables, corrosives and carcinogens) to things like pyrophorics and explosives.
To manage the risks associated with these compounds, Christophe prioritizes training above all else; anyone who steps foot into his lab undergoes an exhaustive series of modules and reviews over 25 Standard Operation Procedures (SOP's.)
Christophe's supervisor, Bruce Hammock describes him as a "wonderful scientist, who is both proactive and effective" and remarks that he "goes above and beyond when presenting lectures on safety." Bruce is also proud of the way Christophe runs group meetings, making time to review Safety Near Misses as a way to re-examine proper protocol and encourage open communication.
In addition to proper and continuous training, Christophe has found that "the keys to reducing risk are teaching lab members to be organized and use critical thinking." He notes, "We have a lot of smart folks here, and it's good to take advantage of that to promote safety."
---
Second Quarter 2022 Safety Star: Sarah Blasczynski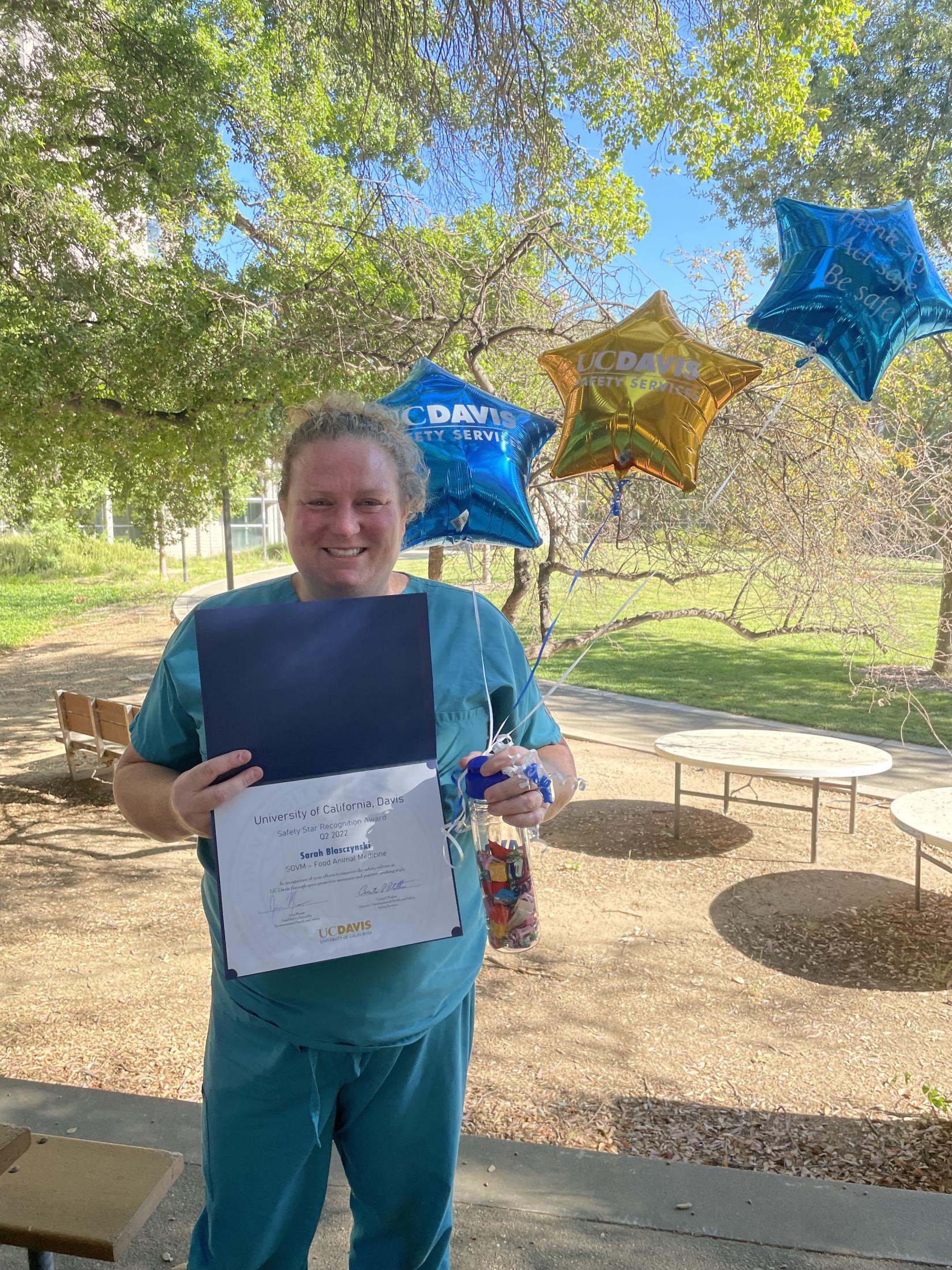 Department: School of Veterinary Medicine: Animal and Food
Position: Animal Health Technician
Sarah Blasczynski, an Animal Health Technician with the Vet Med School, goes above and beyond to foster a safe environment for staff, students and livestock. Among her most notable contributions is formalizing standard operating and training procedures for captive bolt usage at the Vet Med School, the California Animal Health and Food Safety Lab and squeeze chute operations. 
Julia Means, a Lead General Safety Specialist with Environmental Health & Safety, who nominated Sarah for the Safety Star Award emphasized that she "does an amazing job at proactively identifying potential hazards and puts in tremendous effort to find engineering solutions." When Sarah noticed that C-barn could benefit from updated fencing that allows for safer livestock release and corralling control, she applied for funding and was awarded BSAS requests that allowed the project to move forward. 
Sarah's efforts toward improving safety are thorough and comprehensive, which often means they have an impact beyond the scope of her own operations. Her recent mission to identify a new vendor to re-certify cranes and hoists was an impressive undertaking that involved researching reputable vendors, requesting quotes, and scheduling meetings with vendors and managers throughout the School of Veterinary Medicine. Thanks to her hard work, she was able to assist other managers and their staff so they could benefit from the new vendor without having to duplicate the project management work.
---
First Quarter 2022 Safety Star:

Kelly Crucillo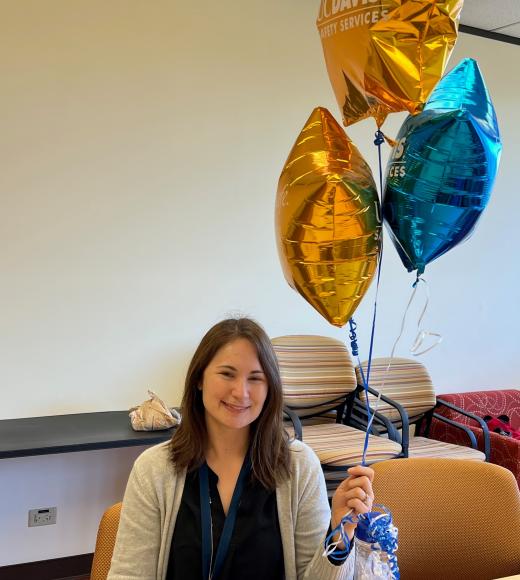 Department: UC Davis' Medical Microbiology and Immunology Department
Position: Lab Manger at the Coccidioidomycosis Serology Laboratory and Clinical Services
Our most recent Safety Star is Kelly Crucillo, who manages the Coccidioidomycosis Serology Laboratory and Clinical Services for UC Davis' Medical Microbiology and Immunology Department. 
Kelly has been recognized for always prioritizing lab safety, and for being very innovative with her approach to raise awareness about safety measures. Just recently, when the lab celebrated its annual Lab Safety Month , Kelly designed interactive games and quizzes to teach the lab team about safety. A "PPE Relay" and a "What's wrong with this photo?" game were among the creative ways she teaches the lab about safety.
Kelly wanted to be add that the Lab Safety Month was a collaborative process started with her lab members, including Wendy Tsang.
She shared a quote about safety from her safety mentor, DSC Judy Edman, "You will only ever be as safe as the person next to you", and also mentions EH&S Lab Safety Professional John Lomas as a safety inspiration.
Dr. Satya Dandekar, Kelly's supervisor and a professor of microbiology and the department's chairperson, appreciated Kelly's presence in the lab. 
"Kelly has been an exceptional support for the Clinical Diagnostic Laboratory as well as for the MMI department," said Dr. Dandekar. "Her work ethic, and her commitment to the laboratory safety training and protocols for the staff are remarkable. Kelly has been compassionate and supportive of her colleagues, especially during the pandemic times. We are greatly appreciative of Kelly's leadership in managing the laboratory safety protocols and for her compassion and care of the laboratory staff. Her diligent efforts have contributed to the stellar safety records of the Clinical Diagnostic Laboratory and its consistent recertification. She truly is a Safety Star and is well deserving of this recognition." 

Safety Officer Brett R. Smith, who nominated Kelly as Safety Star, described her as having "greatly increased the safety culture of her lab by using fun and interactive ways to discuss and learn about safety."
Fourth Quarter 2021 Safety Star: Lisa Franzi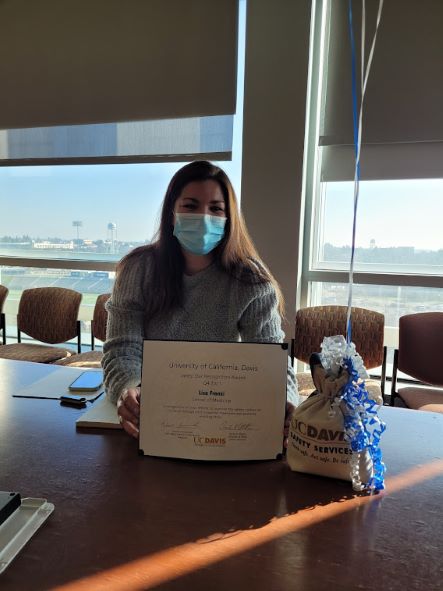 Department: School of Medicine Department of Pulmonary and Critical Medicine 
Position: Research associate
Lisa was nominated by Lab Safety Professional John Lomas, due to her efforts in the cleanout of lab in her department. John noted that she did this even though she did not work for the departing Principal Investigators. The issues the lab left behind were complex, and cleanup entailed Lisa taking extra, technical training. Overall the efforts took six months.
Lisa said she thinks about safety as "the invisible guardian around the lab. Someone might not consciously think about it, but the lab runs smoother because of the efforts made to attain and keep the highest levels of safety and security."

Lisa's supervisor, Dr. Nicholas Kenyon said, "Lisa has been a tremendous asset to our division and department for 20 years. We rely on her for personnel training in lab safety protocols for several of our labs, and she has long been our go-to expert. We are very lucky to have her and thank you for this recognition for Lisa. It is highly deserved!"
Third Quarter 2021 Safety Star: Krisztina Forward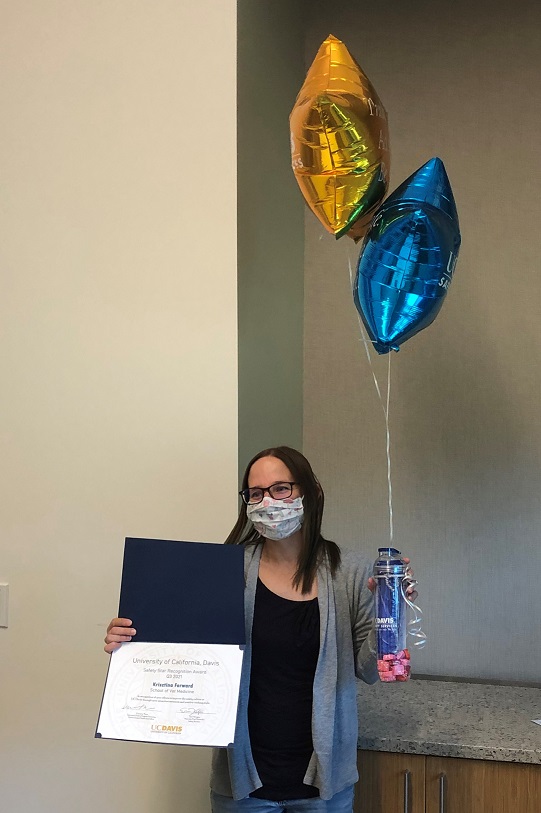 Department: School of Veterinary Medicine: Academic and Research
Position: Safety Officer
The latest Safety Star winner is the first one to have won twice: Krisztina won in 2017 when she was a lab manager in the School of Medicine.
Krisztina was nominated by EH&S HazComm Specialist Bernie Tano. Krisztina works closely with EH&S on many issues, but Bernie focused on their collaboration on monthly Eyewash/Safety Shower (EW/SS) activations, saying,
"In early 2020, the EHS Eyewash/Safety Shower and Fire Extinguisher (EW/SS/FE) pilot program ended. Without this service, Krisztina took action to replicate the program for SVM and build the program with SVM student employees. She has successfully recruited and trained student employees and has established an effective SVM EW/SS and FE monthly inspection program. I applaud her success and appreciate her drive and enthusiasm to help others meet compliance requirements. I miss working with her but am very excited to see all the she has accomplished."
Characteristically modest, Krisztina pointed out that the EW/SS/FE program was initially established by Larry Neal (now retired) and the late Shirley Liu. She was able to improve upon this existing program working with EH&S. She also gave a shout-out to Maura Ferrero and a student worker, Nolan Finke.
Maura Ferrero, her counterpart in the Vet Med Teaching Hospital says that Krisztina is an amazing coworker, and went above and beyond in training her when she was new. She goes on, "Her attention to details, how much she cares about safety, and her personality are just a few reasons why she deserves this award!"
Congratulations, Krisztina!
Second Quarter 2021 Safety Star: Jeffrey Buscheck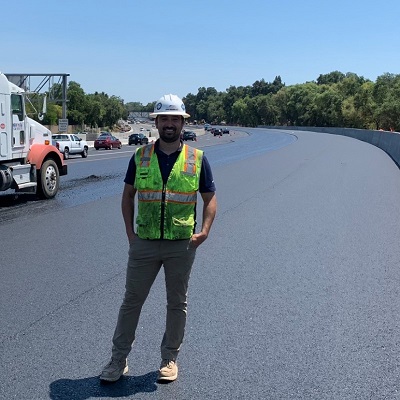 Department: UC Pavement Research Center
Position: Research and development engineer and lab manager.
Jeff Buscheck, a lab manager and research and development engineer at the UC Pavement Research Center, is the newest Safety Star. "I have been fortunate to work with Jeff for the last two years and witness the transformation in safety practices he has championed," remarked EH&S Industrial Hygienist, Suman Dhal. "I nominated Jeff as a Safety Star because he fosters a culture of shared responsibility for safety, and acts as an extension of Safety Services, which makes our job a lot easier. I thank him for his commitment to safety and his continued support."
He came to work at UC Davis as an outgrowth of studies as an undergraduate. During his last year, he took three courses from his current PI, Dr. John Harvey. They discussed the possibility of growing the lab space for material testing at UC Davis. He was hired in July 2014 and together with their team, they have built a research and teaching lab that serves several transportation infrastructure research projects and supports two undergraduate courses.
He says, "My role in safety has grown with our scope of work performed....COVID-19 has brought unique safety challenges...it is a never-ending process and I am having the time of my life along the way."

Jeff's responsibilities are expansive, including staff training, process documentation, improving the infrastructure and equipment; combined with growing the technical expertise of everyone working in the program.

"Jeff has done an outstanding job of increasing the professionalism and safety consciousness since he took over daily operations," remarked Civil and Environmental Engineering Professor, John Harvey. "All aspects of the lab have been part of his exemplary drive and attention to continuous quality improvement. A well-deserved honor!"
First Quarter 2021 Safety Star: Brenda Cameron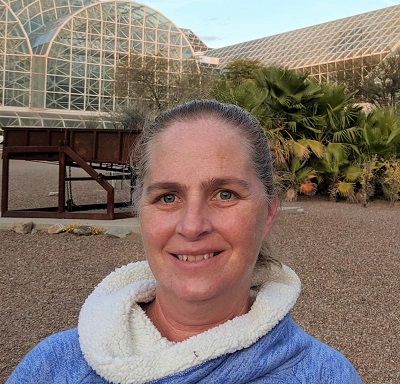 Department: Evolution and Ecology
Position: Departmental Safety Coordinator and lab manager.
Brenda was nominated by the (now retired) CAO of her department, Carla Munoz. Carla said, "Brenda Cameron is our departmental safety officer, as well as a lab manager for several PI's in Evolution and Ecology - so she is a very busy person! Departmental Safety duties have really increased due to COVID requirements. In addition to a full lab renovation occurring in one of the labs that she manages during this time, where she nearly single-handedly cleared out the lab, she has been a key team member along with the CAO and chair in helping with all of the safety requirements required to allow essential and approved research ramp-up projects within our building and assigned areas. She created and maintains our calendar system for contact tracing, she has advised on research safety as well as posting signage and evaluating lab spaces for compliance. This service has been invaluable.
Brenda coordinated a shared pickup of unused chemicals by EH&S. This was a great way to rid the labs of chemicals that they no longer need as well as making them available for other researchers.
Brenda also works with our assigned EH&S Specialist to help labs within our building to remain in compliance with all requirements. She provides training to new lab managers and new staff/students/faculty. She assists with fire safety inspections and preparation for Yolo County CUPA inspections and answers questions in support of the chemical inventory. She revises our departmental IIPP and ensures that labs have updated material for their safety binders. Brenda also contributes information to be included in our quarterly safety email where we remind labs to make sure all new students have completed safety training, safety information is discussed and recorded in their safety binder in support of CUPA requirements and any other updated info related to training opportunities or seasonal safety matters. We are truly lucky to have Brenda on our team and strongly support her nomination as a true Safety Star!"  
---
See all past Safety Stars!