Fire Extinguisher Program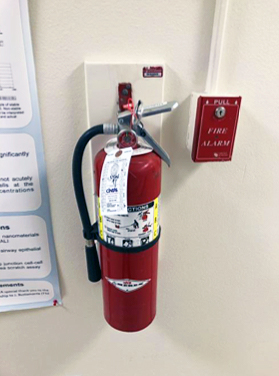 UC Davis Fire Prevention Services strives to provide students and staff with the necessary fire extinguishing equipment to avoid loss of life or personal injury, and to prevent loss of property or serious damage due to fire.
In accordance with fire code requirements, fire extinguishers are generally placed so that the maximum travel distance to an extinguisher is no greater than 75 feet from any occupied space. Fire extinguishers are typically placed in areas that are easily accessible, and should be near an exit or along an exit travel route. An overabundance of fire extinguishers in your lab or office will not necessarily provide you with the proper means to fight a fire; however, a properly placed fire extinguisher and appropriate training will.
New Fire Extinguishers
Requests for new fire extinguishers must be made to the UC Davis Fire Prevention Services, as the UC Davis Fire Marshal has jurisdiction over placement and removal of all fire extinguishers located on the UC Davis Campus, and all properties administered by UC Davis.
Upon request of a new fire extinguisher, an inspection of the area will be done by a Fire Prevention representative to determine if the location meets the criteria for a new fire extinguisher. To schedule an appointment with a UC Davis Fire Prevention representative please call us at (530) 752-4268 or (530) 752-1493.
Fire Extinguisher Training
If you are personally concerned that you or your staff do not have the proper training for the use of a fire extinguisher, training classes can be scheduled through UC Davis Fire Prevention Services.
The class provides hands-on training in a safe, controlled environment in which students and staff will have the opportunity to use a real fire extinguisher to extinguish an actual fire. The fire extinguisher training class is held on the last Wednesday of every month in the Fire/Police Building, 625 Kleiber Hall Drive. Call UC Davis Fire Prevention at (530) 752-4268 or (530) 752-1493 to enroll in the class.
Note: The Campus standard fire extinguisher is the Amerex Model# B441, 10-pound portable fire extinguisher, for use in all facilities.