UC Davis' emergency response capabilities and ability to maintain operations have been tested year after year.
Understanding how decisions are made by the university is a critical part of everyone's responsibility to stay informed. Help prepare your department for an emergency, and likely improve your overall resilience when one occurs.
---
Wildfires and Smoke Preparedness
Wednesday, May 18
1 - 2 p.m.
Register in Advance via Zoom
---
Air Quality Index Decision Matrix
Wildfire is increasing in frequency and severity in California. We have a plan and your department should too. We'll cover the Decision Matrix Based on Air Quality, which is designed for use when wildfire smoke conditions result in worsening and unhealthy air quality. It does not apply if there is a direct threat of wildfire and/or other significant hazard to the location, or for smog-related air quality conditions.
---
Get N-95 Masks
Review your departmental supply of N-95 masks for outdoor workers and have enough ready to maintain operations through two weeks of smoke conditions. Test your communications plan before an emergency to notify your outdoor workers when a smoke event is coming and how to pick up a mask for voluntary use. N-95 mask supplies and prices often fluctuate, so it is best to purchase in sufficient quantities, before a smoke event occurs.
N-95 masks are available for purchase:
Take ten minutes to complete the
N-95 training
in LMS to stay prepared— particularly if you anticipate performing high-exertion labor outdoors.
---
Building Ventilation and Filtration
UC Davis is taking steps to ensure campus ventilation and filtration systems provide appropriate risk mitigation. Visit Facilities Management's webpage to learn how they are keeping us safe in response to major events such as the COVID-19 pandemic and local wildfires.
---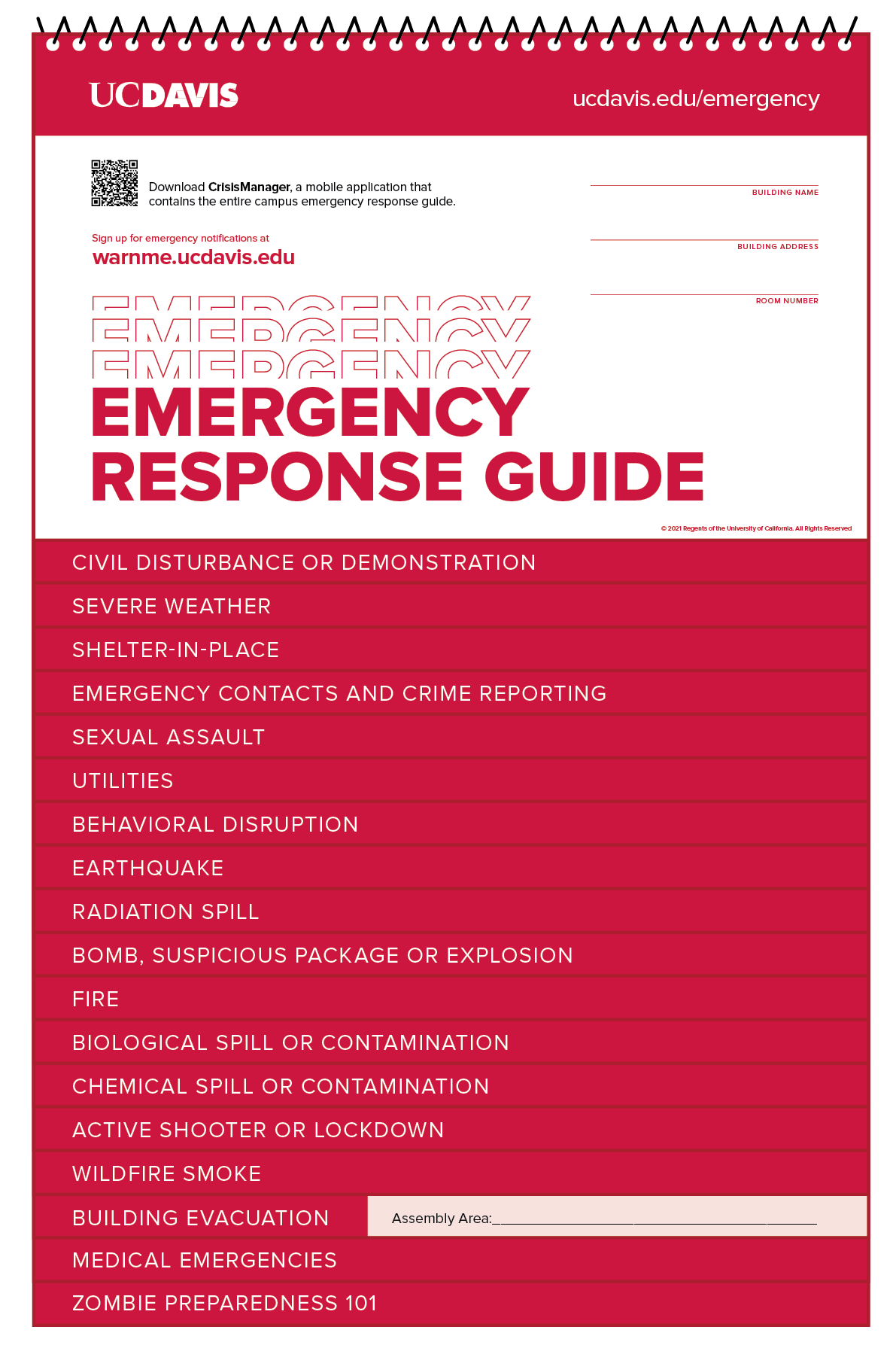 Emergency Response Guides 
The most recent version of the red Emergency Response Guides (ERG) was released in 2021 and contains step-by-step guidance for 18 topics, from medical emergencies to chemical spills. 
>> Download electronic version of ERG on your mobile device.
Get Printed Emergency Response Guides
Available in the Safety Services Business Office in Hoagland Hall 276, directly above Reprographics. Open weekdays from 8 am-12pm & 1pm-5pm. 
Please email ssbusinessservices@ucdavis.edu or call 530-752-1493 to schedule your pick up or request intercampus mail drop off.