As the summer approaches, UC Davis employees and students must prioritize their safety and well-being while conducting field research, and working outdoors in the heat and wildfire smoke.
Proper planning will minimize risks to you and ensure the success of our work and research. This includes identifying potential hazards, developing safety protocols, providing necessary protective equipment, and staying informed of weather and wildfire conditions.
Topics Below
---
Heat Illness Prevention
Now is the time for departments with outdoor workers or researchers to prepare for the risks of heat exposure and to be aware of heat illness prevention. High-heat procedures must be enacted when the temperature rises over 95 degrees Fahrenheit.
We'll discuss the four steps to preventing heat illness:
Planning - Develop and implement written procedures for complying with the Cal/OSHA Heat Illness Prevention Standard.
Training - All staff and researchers engaged in outdoor work must complete the Heat Illness Prevention Training annually.
Water - Provide enough fresh water so that each employee can drink at least 1 quart per hour, and encourage them to do so.
Shade - Provide access to a shaded area to prevent or recover from heat illness and where employees can take rest breaks.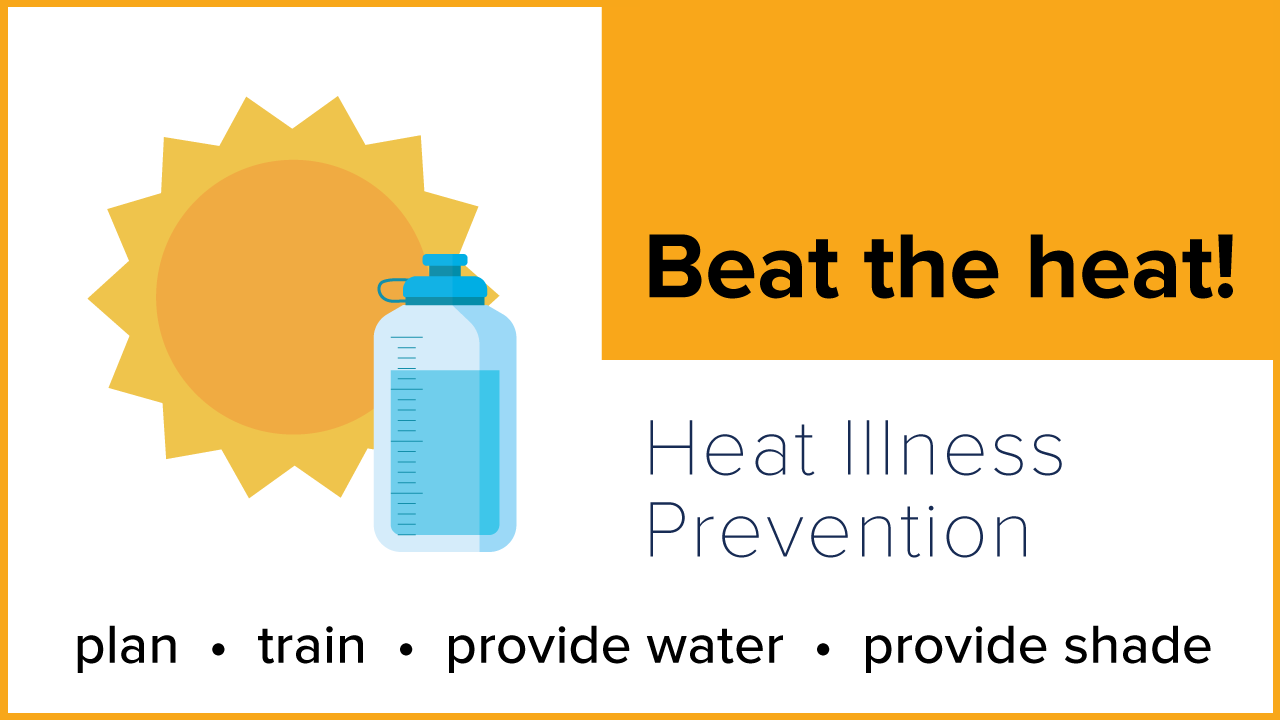 Heat Illness Prevention Procedure Manual
For UC Davis departments to use in establishing and implementing a heat illness prevention program.

>> Learn More
---
Wildfire Smoke and Outdoor Workers
Wildfire is increasing in frequency and severity in California 
We'll discuss planning and resources to protect outdoor workers from wildfire smoke:
CalOSHA emergency standard CCR 8 §5141.1 Protection from Wildfire Smoke ensures protections for outdoor workers and field researchers.
Decision Matrix Based on Air Quality prescribes actions when wildfire smoke produces unhealthy air quality.
Providing appropriate and effective respirators when the employer reasonably expects employees will be exposed to wildfire smoke. 
Latest developments in CalOSHA emergency standard
Options for ensuring protection from wildfire smoke for outdoor workers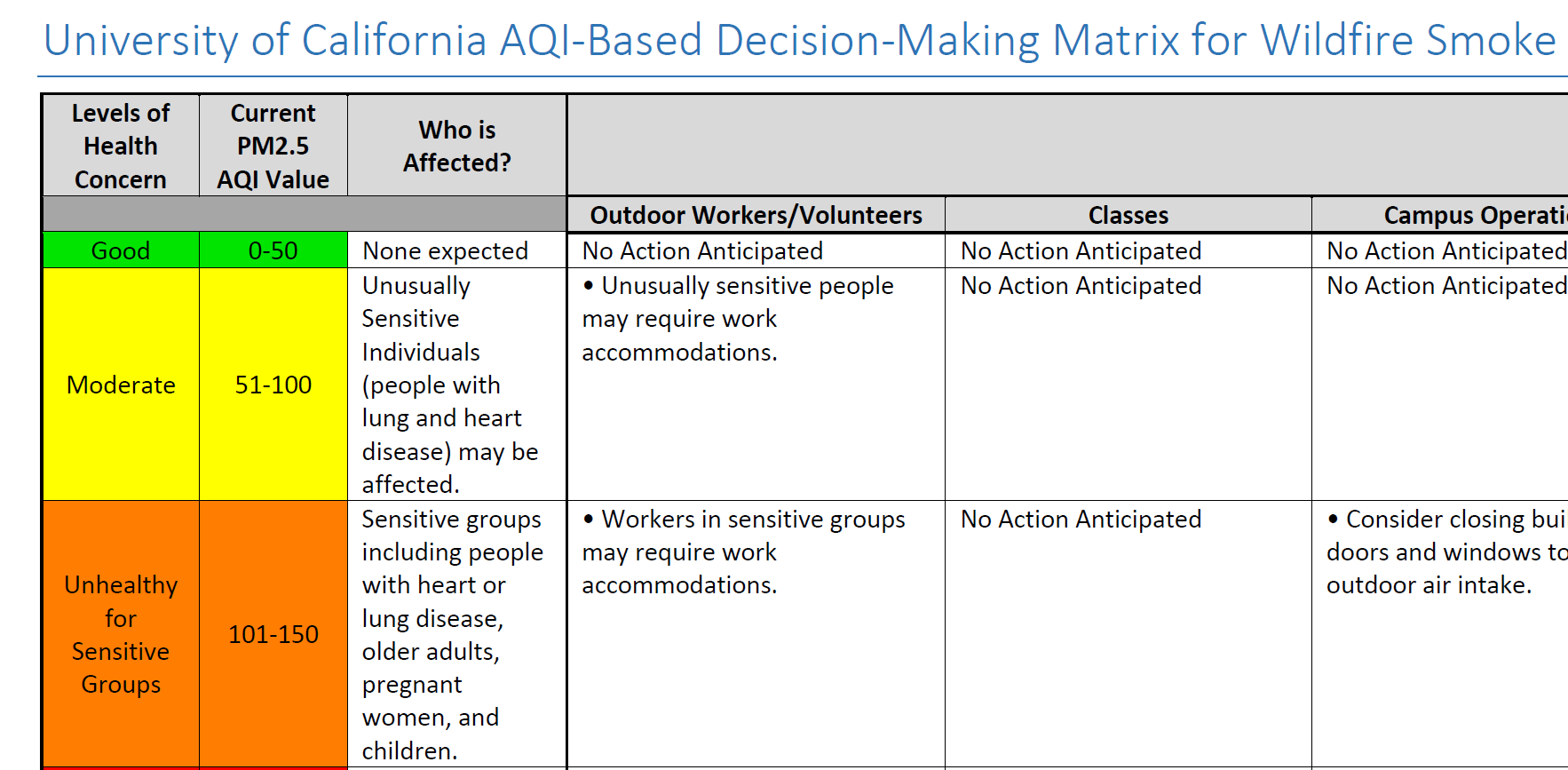 Air Quality Index Decision Matrix
The Decision Matrix Based on Air Quality is designed for use when wildfire smoke conditions result in worsening and unhealthy air quality. It does not apply if there is a direct threat of wildfire and/or other significant hazard to the location, or for smog-related air quality conditions.

>> Learn More
Get N-95 Masks
Review your departmental supply of N-95 masks for outdoor workers and have enough ready to maintain operations through two weeks of smoke conditions. Test your communications plan before an emergency to notify your outdoor workers when a smoke event is coming and how to pick up a mask for voluntary use. 
Take 10-minute 
N-95 training
 if you anticipate performing high-exertion labor outdoors.
---
Field Safety Planning and Preparation
Start the safety plan early in your field work planning process. You will need to have time to gather information, complete training and obtain safety equipment - we can help!
We'll cover important elements of field safety planning:
Refresher on field safety resources

Key elements of the field safety plan and communications plan

New online field safety planning tool

Creating a safe and inclusive working environment for off-site research to prevent harassment, bullying, and other unwelcome conduct. New NSF proposals will require a written plan.
Top 5 Field Safety Concerns Following Severe Weather
The wet winter we had, on top of historic wildfire activity, creates the possibility for heightened threats in the field
Water flowing fast and cold

from mountain runoff

Erosion and rock fall

in areas that have burned

Hazard trees

that have been compromised by drought, fire and insects

Ticks and mosquitoes

will be abundant 

Post-fire regeneration and weeds

can include highly flammable vegetation
Field Safety Training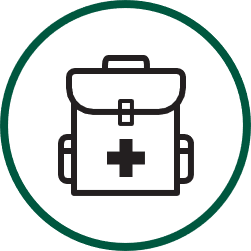 Wilderness first aid
Tailored workshops
Equipment Loans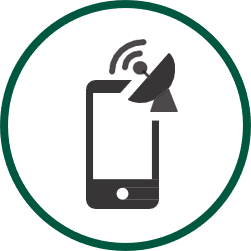 Satellite communicators
First aid kits
Guidance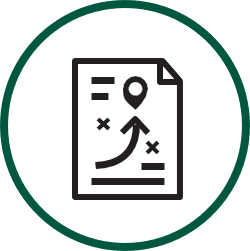 Field safety plan consultation
and review