Bolstering our knowledge and work towards diversity, equity and inclusion.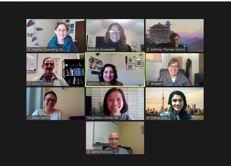 Inspired by a collective vision for promoting equity, the Diversity and Inclusion Committee was established in November 2018, with support from Associate Vice Chancellor, Eric Kvigne. The committee membership comprises all roles and units at Safety Services.  
Our mission is to support the five-year Diversity, Equity, and Inclusion training roadmap created in conjunction with the Office of Diversity, Equity and Inclusion and Campus Community Relations. We strive to foster an open environment of sharing and safety for all. Our monthly meetings are open to all interested Safety Services colleagues. Some of our work includes: 
Publishing a newsletter with events that celebrate or discuss cultural diversity 
Offering workshops and talks from various campus groups 
Developing an online resource page to highlight diversity and inclusion within Safety Services 
Jump to: Upcoming Meetings and Ways to Get Involved
---
The Five-Year DE&I Training Roadmap for Safety Services

Year 1: Principles of Community debrief (2019)
Year 2: Implicit Bias, with focused additional session focusing on recruiting/hiring for supervisors/managers (2020)
Year 3: Microaggressions: Towards Greater Awareness and Understanding (2021)
Year 4:  Cross cultural communication and conflict management (2022)
Year 5: TBD (2023)
Chancellor May and Associate Vice Chancellor, Eric Kvigne: Thoughts on DEI
"Inclusion — like social justice — doesn't come easily. It requires a collective effort. It requires each one of us working to make a difference, whether that's through getting involved in your community, peaceful protesting, or doing what you can to change procedures that reflect bias." — Chancellor Gary May 

"Fulfilling the mission of Safety Services requires effective collaboration with all campus partners and the broader community. We are training our workforce to understand issues around diversity, equity, inclusion and belonging because we are better able to advance a culture of safety when we can understand and respect the diverse populations we serve." — AVC Eric Kvigne
---
Share Your DEI Experience
Do you have a story related to your own experience with diversity, equity and inclusion? A family tradition? Childhood memory? Favorite holiday or recipe?
Send an email with the subject line 'My DEI' and specify whether you'd prefer a phone call or email interview, or complete some short prompts. Your responses might appear in the DEI Spotlight section of our Newsletters (see right-hand column.)
Request One-on-One Interview    or    Complete DEI Prompts
---
Upcoming Meetings and Ways to Get Involved